The Better Grades in Less Time package:

How to improve your concentration and your grades
Test taking secrets
How to improve your reading comprehension
How to easily memorize: facts, formulas, names and lists.
How to save long hours of aggravation sitting trying to understand your reading.
After using this program, students receive higher scores on standardized tests.
As a struggling student, I discovered techniques that took me from barely getting by in high school, to the top of my class in college. Since that time, I have been asked by hundreds of schools around the country, including Harvard, Cornell and MIT to speak about what I've learned.
Over the past ten years, I've shared the secrets of academic success with hundreds of thousands of traditional and non-traditional students around the world. Now my mission is to make these little known secrets available to everyone. Whether you are at a community, online or private college, this program is designed for you!
The benefits of this program are so effective that it comes with a full money back guarantee. If for any reason you are less than fully satisfied with this product, you may return it within three months to receive a 100% refund!
---
This Informative Guide to Academic Success Will Show You
How To Easily and Quickly:
Increase your Reading Speed and Comprehension
Learn Test Taking Secrets of Top Students
Improve your Concentration and Your Grades
Easily Memorize: Facts, Formulas, Names and Lists
Understand Your Reading with Clarity the First Time
Receive Higher Scores on Standardized Tests
Study Better and Produce Higher Quality Work in Less Time

Plus Learn Techniques on How To:
Study More Efficiently with These Ten Secrets
Stay Alert and Increase Concentration by Understanding Your Body
Boost the Points on Your Already Graded Exam
Discover the Ultimate Secret of 4.0 Students
Increase Your Ability to Concentrate on Any Material
Recall 20 Things in an Instant : 3 Keys to an Amazing Memory
Save Hours on Writing Research Papers
Cram for Tests the Right Way (For Those Times You Must!)
Increase Your Power of Persuasion and Communication
And Much More


Study Music & Timing Tape


Reading Speed & Comprehention


Memory Power & Powerful Persuasion

Better Grades in Less Time™ is a 130 Page Book That Comes With
3 Audio CD's That Contain:

Personal, Real-World Instruction for Academic Success from Gary Tuerack

Tips and Techniques for Getting the Most out of Your Study Time

Practical, Fun, and Easy-To-Do Exercises for Academic Success

A Study Music CD that Puts Your Brain Into the Best Learning State

Plus a Video CD-ROM that Shows:



Bonus Video CD



The Best Time of the Day to Study
How Certain Foods Effect Your Focus, Concentration and Energy
How Powernaps Can Maximize Your Mind's Potential
An Amazing Five Minute Study Technique That Activates Long Term Recall
Plus a Special Online Access Pass to VIEW THE ENTIRE 2HR LIVE PRESENTATION!!!

(Schools Pay Over $5,000 to Host This Program
and Individuals Often Pay $495 to Attend Live Seminars to Learn This Information!)

If you would like to order any of these products by phone, please call The National Society of Leadership and Success at 800-601-6248 or (631) 864-0848.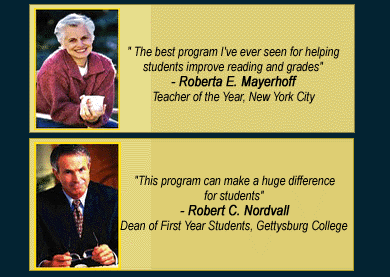 Reviews by Students
"My reading speed went from 264 words/minute to 552 wpm. I definitely recommend this for EVERY college student. The techniques offered in the booklet will improve your grades dramatically."
M.I.T, George Lee, Student
"Gary's presentation on reading was the most helpful seminar or lecture I've been to at Harvard."
Harvard University, Daniel Stephens, Student
" The result of Gary's reading methods were phenomenal!"
Virginia Tech. University, Molly Stout, Speakers & Issues Chair
"I heard many positive comments. I would definitely recommend it."
Valparaiso University, Coleen Murphy, Union Board Hot Topics Chair
"It exceeded my expectations. I would strongly recommend Gary!"
Idaho State University, Brian Shuffield, Issues/Speakers Chair
"It was out most successful program of the year! Energizing and motivating - this is something your students need to hear!!!!"
University of Southern Indiana, Cori Smith, President, Activities Programming Board
"We feel this program would be beneficial for anyone and everyone who has ever wanted better grades."
Central Missouri State University, Jennifer K. Lommler, University Program Council Lectures
"I was in disbelief when all the students at least doubled their reading score without losing comprehension. I cannot thank you enough."
Assumption College, Alessandra Roffo, SGA VP for Academic Affairs
"A huge success. This program is awesome!"
University of Wisconsin, Stevens Point, Lacey Benz, Social and Contemporary Issues Chair, RHA
"Nearly everyone gave the program an "11" on a 1-10 scale and had nothing but praise for Gary. "
Seton Hall University, Jennifer Rafter, Lectures Chair, Student Activities Board
"This topic is so needed at the university level."
Edinboro University, Michael Smith, University Programming Executive Chairperson, SGA
"I have heard nothing but positive reactions from students, faculty, and staff."
University of Texas of the Permian Basin, Jamie Poe, Graduate Assistant to Office of Student Activities
"Wonderful! Your program was an excellent experience for myself as a programmer and as a student. The average score for the program was an incredible 9.6 out of 10."
Butler University, Anne Tucker, Guest Speakers Chair
"Students are still raving about it!"
Columbus State University, Elisa Williams, Cultural Affairs Chair
"He is an inspiration. I can't recommend this program enough."
University of Wisconsin, Whitewater, Stacy Plisis, Insights Coordinator, Campus Entertainment Network
"A wonderful idea. We need more of this during a semester."
Georgia College and State University, Kim Benfield, Director, Campus Activities Board
"Fantastic! The results were amazing! Students will thank you."
Babson College, Cydney M. Aiken, Campus Activity Board, Cultural and Education Chair
"The students are still thanking me for it!"
University of Tampa, Roderick Patten, Lecture/Comedian Chairperson
"An excellent program! Our students had a lot of fun and left with great study and reading skills!"
Winthrop University, Steve Johnson, President, Student Union Prog. Board
"We received very positive feedback!"
Hawkeye Community College, Tracy Anderson, Student Activities Coordinator
"We have received many positive comments from the students and quite a few requests to have him back as soon as possible."
Pennsylvania College of Technology, Rachel L. Bradway, Student Activities Assistant

---
Reviews by Media & Professionals
"Gary Tuerack is one of the world's most respected authorities and trainers on speed reading and mental power development."
American Seminar Leaders Association, Paul Karasik, Founder
"To be nominated for Outstanding Speaker of the 20th Century is confirmation of the eminence you have achieved in your field."
International Biographical Center, Nicholas Law, Director General, Cambridge, England
"You are making a positive impact."
Ken Blanchard, Author of "The One Minute Manager"
"I applaud you for the special services you have to offer today's student."
Teacher of the Year, Roberta E. Mayerhoff, New York City
"Gary Tuerack is someone who gives from the heart, and who cares about helping others. His results are real!"
Campus Globe Newspaper, Cornell University
"This presentation was excellent and gave students many practical ideas on how to increase their concentration and better their study habits."
The Troy State Metropolitan
"Throngs of students gathered in the Memorial Union Ballroom Wednesday night, lured by the tantalizing promise of "Better Grades in Less Time." They were not disappointed."
The Daily Barometer
"Gary's techniques cut the length of a study load in half."
The Anchor, Gainesville College
"Enhance your earning power and gain skills of high achievers. Tuerack has become a renowned expert on Success."
The Arka Tech, Arkansas Technical University
"His results are real."
Northeastern Iowa News, Northeastern Iowa University
"He has turned skeptics into believers! If students really knew the benefit they would be lined up around the street."
The Santa Clara Newspaper, Santa Clara University
"This is a wonderful opportunity for students to improve their study skills and have a lot of fun learning how."
The Observer, Broward Community College
"He's got a proven track record for helping students."
The Guardian, Wright State University
"Students have succeeded using his techniques!"
The Voice
"It proves the need thought was there, really was."
The Wichitan, MSU
"Students take action on what they are learning."
The Gallery, Clinton Community College
"Tuerack engaged students to increase their reading speed and retention."
The Baylor, Lariat Baylor College
"By it's end many students had doubled their reading speed."
The Lakeland Press, Lakeland College
"He knows they (the techniques) work and has a goal of sharing his knowledge to help others."
The East Texan, Texas A & M University
"A dynamic and inspiring presentation."
The Crier, State University of New York
"Tuerack can help students break bad habits such as poor concentration, feeling sleepy when reading, procrastination and reading for words instead of ideas."
The Bengal, PSUB

---
Reviews by College Faculty
"Through his personal experiences and knowledge, he is sincere in his mission to help students. Gary is truly the consummate professional."
Radford University, Mike Duncan, Assistant Director of Student Activities
"I must tell you that this improved the quality of almost everything done by my students.
Mr. Tuerack received my highest recommendation as a motivator and role model for college students. I hope you take advantage of this wonderful opportunity."
San Francisco State University, Deanna Latson, Speech Communications Department, CA
"Many students doubled their reading speed. I was able to triple my reading speed with full comprehension."
Worcester State College, Sherri Nickel-Milstone, Director of Residence Life & Housing
"Our students cannot stop talking about it."
Muhlenberg College, Brian Mauro, Director of Leadership Development
"A huge success. Our staff highly recommends any student look into "Better Grades in Less Time."
Western Wisconsin Technical College, Dave Fish, Student Development Associate
"Tremendously informational and professional. An inspiration."
North Georgia Technical College, Kimberli Patrick, Director of Special Services
"I will strongly recommend your program to all 19 Penn State Campuses."
Penn State, Hazleton Campus, Cy Falatko, Director of Student Activities
"There was much substance. Reading speeds were dramatically increased as was
comprehension."
Southern Utah University, Neal L. Cox, Director of Public Relations/Assistant to the President
"Students indicated a 100% positive outcome. Those who took the challenge now have truly better reading skills and grades."
Laramie County Community College, Patricia A. Pratz, Coordinator, System for Student Success
"I am continuously amazed. Time and time again students rave about how much they have learned."
Georgia Southern University, April D. Bugarin, Activities Coordinator
"Students found it to be extremely rewarding."
New Mexico Highlands University, Margaret Gonzales, Campus Life Coordinator
"Almost all the students doubled or even tripled their reading speed!"
Ohio Northern University, Mandy Confer, VP of Development, Pan Hellenic Council
"Feedback from our students and Academic Dean was extremely positive. The speed reading technique is very effective. I've been using it ever since."
Elms College, Renita Garnett Satchell, Director of Student Life
"I rate this a 12 on a scale of 1-10!"
Northwest College, Mike Taylor, Director of Student Activities
"I would highly recommend this as a program for any high school, college and university student."
Muhlenberg College, Paul M. Hurd, Jr. Assistant Dean of Students
"I would have never believed, I could read so quickly and comprehend so much! Students evaluation indicated a 100% positive outcome."
Laramie County Community College, Patricia Pratz, Coordinator, System for Student Success
"Very VALUABLE information!! This program was so worthwhile that I wanted to pass on the information with my enthusiastic recommendations."
University of Illinois at Chicago, Teri Blain, Assistant Program Director, Campus Programs
"Students thoroughly appreciated "Better Grades in Less Time."
Columbia College, Cass Brucker, Director of Student Activities
"Students were raving about Gary."
Kansas State University, Shana Warkentine Meyer, Asst. Director of Student Life
"I was impressed with the company's professionalism."
University of Houston, Amy Coning, BEST Coordinator, Residential Life and Housing
"The program exceeded our wildest expectations. I highly recommend his program!"
Embry-Riddle Aeronautical, Kathy N. Deaner, Director of Student Activities
"The response was overwhelmingly positive."
Maine Maritime Academy, Jim Sheridan, Associate Director of Student Services
"The most successful program we've had in five years."
University of St. Thomas, Brad Stuart, Associate Dean
"The most incredible event we have ever had on our campus. I booked your show, and it was one of the best decisions I have ever made!"
New River Community College, Benjamin G. Kramer, Activities Counselor
"The results were excellent, The students are still complimenting the program!"
Atlantic Community College, Pat Luciano, Dean of Students
"Your program received highest rankings. Students came away raving about how much they had learned in such a short period of time."
Cedar Crest College, Krispin Barr, Associate Dean of Student Affairs
"The response was phenomenal! Thank you for a job well done."
Merrimack College, Elaine Grant, Director of Resident Life
"The students are still talking about it."
Chowan College, Stephanie K. Ruark, Assistant Director of Student Involvement
"The techniques and methods he introduced really worked! Many doubled their reading speed by the end of his presentation."
Lakeland College, Lisa Littlefield, Director of Student Activities
"Extremely informative and interactive. The students learned useful techniques on improving their grades while also having an enjoyable time. Students to listen to what he has to say."
Florida Southern College, Dana Clark, Orientation Coordinator
"Outstanding! Everyone enjoyed the program and benefited tremendously from it."
The Knox School, Clifford K. Eriksen, Headmaster
"Participants rated his program a '10 out of 10' with very positive comments."
Alpha Phi Fraternity, Denise J. Reens, Director of Training and Development
"The program was phenomenal! Those in attendance were captivated. The feedback I have received has been nothing but positive from faculty and students alike."
Mansfield University, Joseph F. Miller, Assistant Director of Residence Life/Coordinator of Retention
"The 'buzz' around campus was that students who did not attend really missed out! Twenty-five professors encouraged students to attend the program."
Randolph-Macon College, Amy P. Wettergreen, Director of Freshman/Sophomore Programs
"Timely, educational and entertaining - a combination we don't often find in our college programs. Students came away raving about how much they learned."
Midwestern State University, Jane Leishner, Dean of Students
"The most incredible student event we have ever had on our campus. A great presentation that helps them learn and gives them skills to improve upon and use for their entire lives."
New River Community College, Benjamin G. Kramer, Activities Counselor
"Awesome!!! An unforgettable experience."
Oakwood College, Tiaja Fletcher, Administrative Assistant
"The students are still talking. Several calls came from instructors who said, "Please bring him back."
Kirkwoood Community College, Program Manager
"Still the only speaker that my students have asked to have back. Your program was perfect for our students."
Queens College, Tom VanSchoor, Greek Advisor & National Scholarship Officer AXP
"The best academic skills programs we've had in years! Entertaining and educational at the same time. Perfect for Greek systems interested in providing concrete ways to help members improve grades."
Mercer University, Sheila Judge, Director of Student Activities and Greek Advisor
"I have never received such positive response as I have for your program. Also pleasing was the positive response I received from faculty members. They commented on how helpful the techniques are to students."
Columbia Green Community College, David Cucinotta, Staff Associate for Student Activities
"Students learned good, applicable techniques for reading and studying."
Des Moines Area Community College, Barbara Newcomb, Educational Advisor
"Any school would be wise to get it!"
University of Minnesota Duluth, Jim McGrath, Program Board