Discover the Secrets of the World's Most Successful People™
Full 1½ hour Live Presentation on 2 CD's!
What do Michael Jordan, Bill Gates, Colin Powell, and Oprah Winfrey all have in common? Discover the common qualities of many of the most successful people in America.
It's an entertaining, motivational audio program:
Gain the Skills of High Achievers
Learn the Strategies to Increase Your Income
Discover How to Harness Your Inner Drive
Develop the Traits of the Highly Successful in Yourself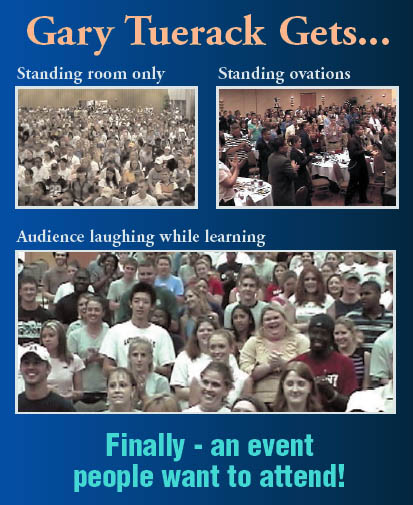 This program gets you to:
Discover Your Purpose
Dream the Impossible Again
Draw up Goals for Attaining it
Design a Plan for Taking Action

This program is designed to help you create the changes you desire in your life. What would normally take decades to change starts happen in days by applying these strategies. The reason?
It gets you to rediscover your passion
It gets you to start taking action towards the life you wish to live
It gets you to see once again your opportunities
It lights a fire under you to move forward with the things you've been putting off
COVERED IN THIS POWERFUL PROGRAM:
Every Moment is the Moment of Truth - the guiding point for living a life worth living
Your Time Ahead - planning your life ahead
Breaking Free - understanding our self-imposed limits
Killing the Comfort - exercises to break free from our controlling comfort
Maximizing the Moment - how to make the best use of every moment we have
Aiming for the Fence - when and how to raise our standards for excellence
Writing Your 3 Day Masterpiece - designing how to live a three day challenge
The Three Day Challenge - a challenge to live On The Edge for three days
The One Day Blowout - a temporary radical way to live which raises our standards
Boundary Breakers - exercises to break loose from our fears
Living the Life you Designed - gaining the inner motivation to stay committed
This is a presentation that awakens people to life. This program gets people to break through their self-imposed boundaries, fears, limitations and restrained way of living, so that they can live more complete lives, going for and experiencing the things they want.

Overview -- On The Edge, Excuses, and Comfort:
On the Edge is where you live life completely. It's where you take risks and go for the things you want. It's a way of living where you are liberated from your own limitations and no longer prisoner to them -- where you no longer let the artificial constraints and restraint thinking hold you back. It's an awakening to living your life the way it was meant to be lived.
It's about living every moment of your time here on earth, making every play you live out, the best possible play so you get the most out of life.
Excuses are an automatic process of your mind reacting to your environment which limit you from living. Their source is comfort. We don't act because we don't want to be uncomfortable, and then we make excuses to rationally justify why we didn't act. When we kill the comfort, excuses die off – and we give birth to a new limitless life.
Comfort
"People are unhappy with their lives because they aren't living completely.
People don't live completely because they don't take risks.
People don't take risks because they don't want to face the fear.
People don't face the fear because it's uncomfortable.
People are controlled by comfort."
While comfort is the root of much of our dissatisfaction with our lives, living on the edge brings us away from comfort enabling us to live life more freely, from which comes lasting happiness. On The Edge: Living Life with No Excuses gets you to live life more completely –it's a workbook for living life. Happiness doesn't come in a book. It comes from a way of living life.


You've got a 30 DAY MONEY BACK GUARANTEE absolute satisfaction guaranteed!

If you would like to order any of these products by phone, please call The National Society of Leadership and Success at 800-601-6248 or (201) 222-6544.